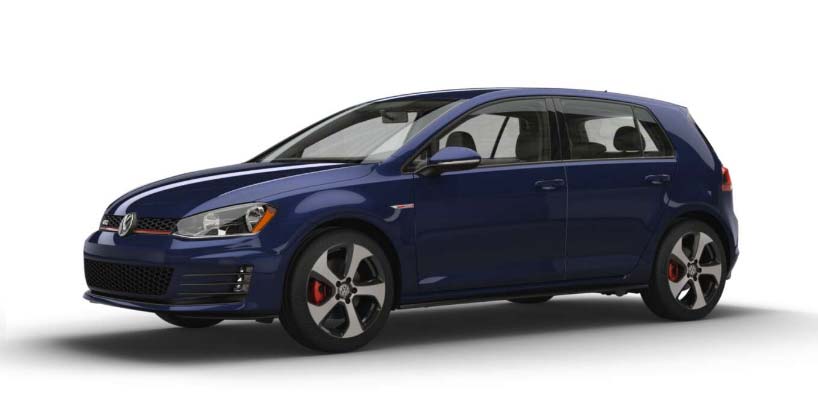 It was a gorgeous 2017 GTI S 4-door manual in Night Blue Metallic, and interior in the only color available on GTIs — Titan Black. Here's the build link.
What I don't like:
The 3-flash turn signals (even if you blip it, it still completes 3 cycles)
The shifter knob looks strange and feels cheap
What I like:
Price… they wanted $22,xxx for it
The fantastic, traditional GTI Tartan seats!
While this one was only a 210-hp S trim (no limited-slip differential, no big brakes), it is a quick car
Buying Experience
I went to Emich Volkswagen in Denver and had an hourlong meeting (including test drive) with the very helpful John (sales). He ran my info through a preliminary credit check (660, not as good as I'd like), and a VW Financing approval request. I qualified for a lease, my choice 3 years or 4.
I chose a 4-year lease to make things easy and that put the payment just at $400/month. At that point it was getting too real and I said I needed to think it over. I didn't plan to go in and buy a car, cold. It's just now how I roll.
I went in wanting to buy, not lease, but John said that after the typical 3-year lease and buyout, buying and leasing are within $100 of each other. I was skeptical, but I rolled with the theoretical lease because it is the more flexible of the two avenues.
I've read a lot of posts on car sites saying to lease a new VW instead of buying, because of reliability concerns. Maybe I was letting paranoia creep into my thought process. Whatever the case, I explored the lease option with my sales rep, and I must admit, I like the flexibility it offers. I like the idea of leasing and turning it in if the car is not reliable.
TO BE CONTINUED… in What I Bought