On the investment front, you may be wondering if Volkswagen has put its worst days behind it, making the stock a buy. Since the diesel-emissions cheating scandal hit the news in September of 2015, the stock has fallen about 25 percent. One problem with a rush to judgement on whether the stock is currently cheap, is that there is a lot to be told about the ultimate costs of the scandal, in fines, recalls, and potential buybacks.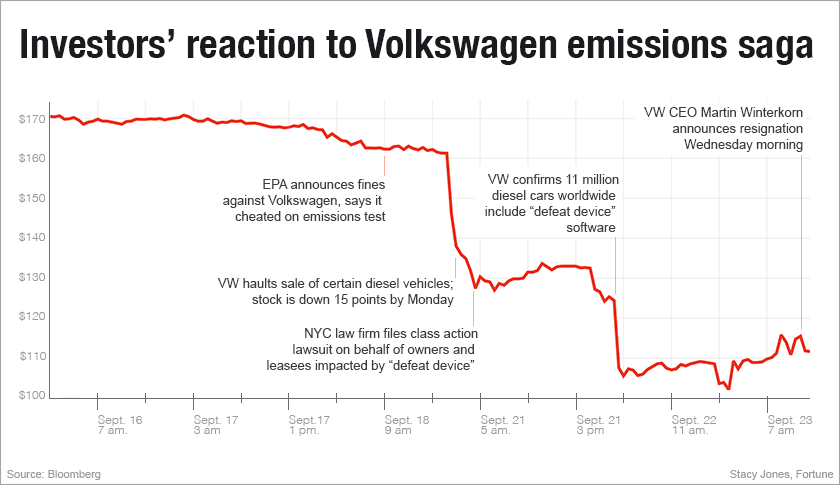 One thing to consider is that Volkswagen is a massive, well-run business that is working hard to turn their image around. In the past, Volkswagen has taken a backseat to Toyota around the world, with VW holding on to a lead in the European car market by a wide margin. In China, Volkswagen has been a very close second place operation in comparison to the market leader there in General Motors.
The future holds many variables and unknowns, but Volkswagen seems to be going in the right direction. In terms of what's around the corner, Volkswagen has been touting electric vehicles and a number of futuristic technologies. Driverless technology is another revolution that may change things radically. In all, each of these innovations have the potential to shift the automobile market in such a way that traditional automakers will fall increasingly behind.
VW's efforts in electric vehicle technologies have produced a number of potential contenders that are slated for production in 2020. It is possible that the vehicles could arrive even sooner given their rapid efforts thus far. Time will tell whether the offering can compete with Tesla, the leader in electric vehicles at the moment. VW's susidiary Audi is also producing electric vehicle options as well as driverless systems.
At the end of the day, it is hard to tell whether VW is at the bottom of its slide. It has lost quite a bit of public favor. It has not delivered complete clarity thus far on what recourse is available to owners of the models affected by the scandal. The jury is out on the company's management and management changes. The company has also lost the avid support of a number of dealerships in the US, as found in a number of widely spread stories. Surely, VW is hoping that it is somewhere near the bottom of the slide. The seeds have been planted for a turnaround and a few mid to long-term tactical business maneuvers. It is probably safe to buy VW at this time for the long run, but the company may still have a ways to go.