New 2019 VW Alltracks Still Available At Dealerships
Even though VW Alltrack production came to a permanent halt in 2019, take heart hardy Alltrack shopper's and aficionados – inventory levels at VW dealerships are still strong….well, ok, warm. Maybe luke warm, but certainly not ice cold.
"Jack" the salesmen at Emich VW in Denver, CO, for instance, reported having approximately 130 2019 VW Alltracks still available on the lot right now, mainly S and SE models, which he added are still selling very well. A quick search on their website also reveals that Emich has a strong inventory of VW Alltracks, ranging in price from roughly $22,000 to upwards of $30,000, with dealer discounts factored in. Those are strong numbers, and good for Emich, and for salesman "Jack", I say.
There's nothing like looking out over a strong selling inventory, sipping a hot cup of coffee, thinking about satisfied customers driving their glossy new Alltracks confidently through the snow.
That's more than can be said for the dealership "Jacks" at Molle Volkswagen, just "across the tracks" in Kansas City, MO.
While it has an array of VW models advertised as "In Stock", the 2019 Alltrack is not one.
Take a look at this screen shot of their online inventory for the search term "Alltrack" on the website: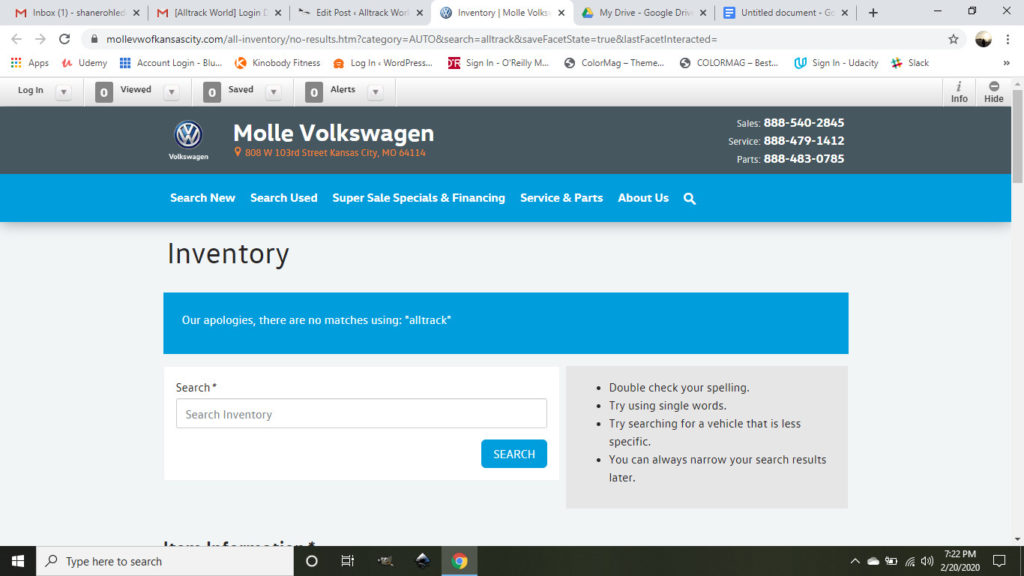 Apologies indeed.
Of course, a sample size of two VW dealerships is by no means trend educing, and begs the real question – what's the national trend?
Well, if you believe in averages, here's a basic springboard to bet on: I searched for VW Alltracks online at Downtown Chicago VW, Northtowne VW, another Kansas City dealership, VW of Kearny Mesa, near San Diego, Calif., LHM Lakewood VW, Lakewood, Colo., Fiesta Volkswagen, in Albuquerque, NM, Emich and Molle (as noted above) and 4 out of 7 had plush inventory, especially of "S" and "SE" trims, advertised on their websites. Only Molle, Kearny Mesa, and Fiesta – which had none, 1 and 4, respectively, showed signs of depletion.
That's about 60% "In-Stock" vs. "Out" (or dangerously low…).
If you also take into account average pricing — wide ranging from approximately $22,000 to more than $35,000 depending largely on location — and trust in Emich's dealership "Jack's" statement, that all trims of Alltracks are still selling strong, I think it's safe to say that if you're in the market for a brand new 2019 VW Alltrack, you'll still be able to find one quite easily at your local dealer (or a well-stocked neighbor) "60-percent of the time, every time"….at least for now.
---
Edit 2/26/2020: Look What Showed Up in the Mail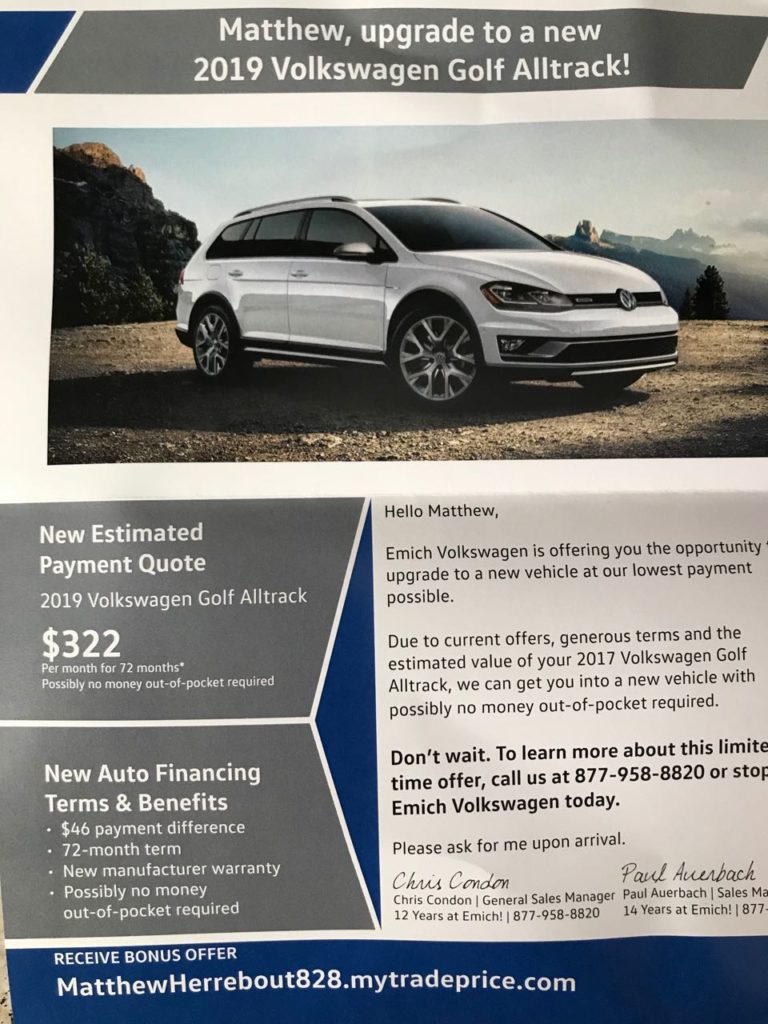 ---