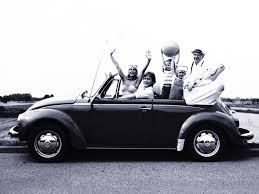 When it comes to cars, you can't get much more iconic than the Volkswagen Beetle. This oddly-shaped automobile that was originally designed for efficiency and economy stole the hearts of consumers everywhere became cemented in history as the automotive symbol of the counterculture movement of the 1960s, and is still going strong with a base of devoted fans across the globe. Call it quirky, call it adorable, call it a "slug bug" if you absolutely must- whatever attributes you attach to it, one thing is certain: the Volkswagen Beetle is a cherished and universally beloved entry into the automotive hall of fame, and it got there by being its own weird little self.
Wait…What's This About Nazis?
Want to hear something ironic? The car that became synonymous with peace, love and hippies back in the 60s was originally dreamed up by an individual with a slightly…different set of principles. Sort of the opposite of peace and love, if you get my drift.
OK, OK, fine, it was Hitler. Yes, THAT Hitler.
In 1934, after coming to power in Germany, Adolf Hitler commissioned Ferdinand Porsche (yes, THAT Porsche) to design a "people's car" (literal German translation: "Volkswagen") that was cheap and simple enough to be mass-produced so average German Joes could afford to drive on the country's newly-completed road network. From 1934 to 1938 Porsche worked on the Beetle, known officially as the Volkswagen Type 1, though production was put on hold until 1945 as a result of World War II. When the car finally began to be produced in significant numbers, it became an instant hit with citizens of Germany, followed shortly by the rest of the world.
Meet the Beetle
Volkswagen Beetle was produced as a rear-engine, two-door, four-cylinder compact car. Its original design objective was to maximize efficiency and economy for consumers around the world. One of the first rear-engine designed car since the Brass Era, Volkswagen stuck with roughly the same design from 1938 to 2003, when the last original Bug rolled off the production line.
Mark I of the VW Beetle had 25 horsepower and was designed for a top speed of 100 km/h, or 62 MPH.
The 40 hp configuration that lasted through 1966 became the model's classic motor, though subsequent variants such as the Kharmann Ghia, Type 2 (the official "hippie bus") and the Golf began rolling off the assembly line to compete with the original Beetle for dominance in the European small-car market. In over six decades, 21,529,464 VW Beetles were produced, making it the longest-running, most manufactured car ever made on a single platform.
In 1998, Volkswagen released the New Beetle, a VW that tugged at the nostalgia heartstrings of aging Baby Boomers with its lines that hearkened back to the original Volkswagen Type 1. Built on a Golf platform, the New Beetle became a huge hit instantly and remained in production until 2011, when it was replaced by the redesigned Beetle A5, which remains in production today.
A Bug by Any Other Name
This may seem like common sense, but Volkswagen markets Beetles under various names around the world. Much like the way McDonald's calls a Quarter Pounder a "Royale with Cheese" in France, Volkswagen's iconic car has many cute nicknames in various parts of the world. In its native Germany, the Beetle is called the Kafer (German for "beetle), and here in the United States, as well as other English-speaking parts of the globe, it is known affectionately as a Bug. Say you're in Paris:
… you can drive your Coccinelle ("ladybug") up to the window at McDonald's and order a Royale with Cheese, tout de suite!
Let's face it: VW Beetles are adorable! Their round little chassis and bug-eyed headlights give them an irresistible personality all their own. There is no car on the market that embodies friendliness and joy than a Beetle. That's probably why they are one of pop culture's favorite automobiles. Back in the 1960s, the family-friendly Disney movie The Love Bug introduced us to Herbie, the anthropomorphic little Bug that can drive and think for himself. Herbie went on to star in a series of films including a fairly recent reboot, Herbie: Fully Loaded, featuring Lindsey Lohan. That's not all- the VW Beetle pops up constantly in the media: every time a movie or TV show wants to portray a character as quirky or unique, the Beetle is the go-to vehicle of choice.
The Volkswagen Beetle is a thriving piece of 20th century pop culture that continues to be revered and celebrated to this day. There is no car more instantly recognizable (and certainly no other car that gives you license to punch a friend on the arm during a road trip), than a loveable, huggable Bug. The feel-good car that sprung from unlikely beginnings has become the subject of countless festivals and conventions to celebrate its existence, and will continue to be a symbol of freedom, individuality and love for years to come.